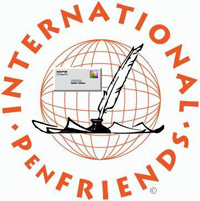 INTERNATIONAL PENFRIENDS® PROGRAM
FREQUENTLY ASKED QUESTIONS


QUESTION:
How many members are in your PenFriends® Program?
ANSWER:
International PenFriends® Program has now passed the 7 million member mark.

QUESTION:
I don't have a printer - how do I get an application form?
ANSWER:
If you live within the USA you can send us a SASE (Self addressed stamped envelope), outside of the USA you can send us an IRC (International Reply Coupon). Or you can just simply write all of the application questions on a sheet of paper with your answers and mail that in with the fee.

QUESTION:
How do I join?
ANSWER:
You just go to our application page to join On-line or print out a mail-in application.

QUESTION:
Is there a fee / and if so why?
ANSWER:
YES - there are fees. Even though we are a International Non-Profit Agency we too must pay to operate this program. Our organization is totally self sufficient and relies on our fees to operate. We do all that we can to keep our fees as low as possible to make it easier for everyone to participate.

QUESTION:
I live overseas - How do I pay?
ANSWER:
If you join On-line you can pay with Visa or Mastercard or you can use your "PAYPAL" Account. When you use the "Mail-In Application" you can pay by Visa & Mastercard, US Checks, International Money Orders in US Dollars, US Cash and IRC's (Known as International Reply Coupons, Available at Post Offices in most Countries)

QUESTION:
I have joined - How long will it take before I get PenFriends®?
ANSWER:
This varies. It depends first on how you paid. Whatever your form of payment, your funds must clear before your application will be sent to our processing center. Next incomplete applications will cause a delay, and most importantly you must provide us a correct address. We get many Penfriends® lists returned to us because of an incorrect address. The "average time" is about 2 weeks to receive your list. PayPal up to 4 weeks. If you pay with a credit card other than your name or mailing address this will also cause a delay.

QUESTION:
I joined On-line so will I get my PenFriends® List via EMail?
ANSWER:
All Information is provided in your Confirmation.

QUESTION:
What if I want a Email PenFriend® or On-line PenFriend®?
ANSWER:
International PenFriend® Program is ONLY a Postal Program. We have provided on our website a few ways to get E-pals.

QUESTION:
Is my personal information that I provide to join safe?
ANSWER:
YES - Naturally we will pass on your mailing address to your PenFriends®. If you do not wish for others to have your home address then get a PO Box at your post office or through a mailing center.
We only match PenFriends® in the same age group and do not match people in the same State. In most part not even the same country. After your membership is complete your information is deleted from our computer and at NO time will we sell of give your address/Info to any other company for ANY reason. So you will not receive junkmail from us or anyone else as a result of joining.

QUESTION:
I lost my list of PenFriends® can I get a replacement?
ANSWER:
NO - There is no way for us to replace your list as we do not keep this information on our computers - For your privacy. So please put your list in a safe place and maybe even make a photocopy as a spare.

QUESTION:
I have too many PenFriends® - How do I stop getting more?
ANSWER:
Just send us a letter with your name, address and membership number and tell us to stop your membership.

QUESTION:
My membership has expired - can I still write to my PenFriends® ?
ANSWER:
YES - you may write to these people as long as you wish.

QUESTION:
My membership has expired - Can I join again and get more PenFriends® ?
ANSWER:
YES - Many people re-join to get more PenFriends® or maybe ones in different areas.

QUESTION:
I want to join but I don't want so many PenFriends® - What do I do?
ANSWER:
Our memberships are designed in mind to give you the best chance to get members in the areas that you wish to write to. However the world is forever changing and we know that you will not be writing to everyone you are matched with. Members move, provide incorrect addresses or just may not wish to write to you for whatever reason. So we have provided enough contacts so you can enjoy the program but not so that you will get too many.

QUESTION:
Are there any additional fee's after joining?
ANSWER:
Not from us - However you must remember that every time you write a letter there are postage fee's - lot's of letters means lots of stamps...

QUESTION:
I have seen other advertisements with the same or simliar names - How do I make sure this is your organization?
ANSWER:
YES - Unfortunately many others use similiar names. The terms "International PenFriends®" & "PenFriends®" are registered Trademarks of IPF and anyone else not associated with our program is breaking the law. All our materials use our Logo (on the top of this page) and ALL Fee's & Applications are sent to our processing Center Addresses. Check's are never made payable to any Person. When in doubt - Write us and ask.
We do prosicute all violater's of our Trademark within it's juristiction.

QUESTION:
When did the International PenFriends® program begin?
ANSWER:
Our Founders have used the Term "PenFriends®" in a variety of programs with a variety entities for over 80 years. The first Computer matching use of the program was at a worlds fair in the USA over 50 years ago. It was a promotion to get people to write letters worldwide. The program became an official cultural program by IPF and has since become one of its largest divisions.
---
QUESTION:
I have more questions - Can I call someone?
ANSWER:
NO - We no longer have our customer service lines as this became overwhelming with thousands of calls 24 hours a day from all over the world and in many languages. Thus ALL contact is via MAIL. If you wish to write to us in order to get a reply you must enclose a IRC (International Reply Coupon) if you live outside the USA or a Self-Addressed stamped #10 envelope if you are within the USA. Mail wishing a reply must follow these steps or we CANNOT reply.
---
QUESTION:
I sent an Email and haven't received a reply?
ANSWER:
We receive thousands of Emails 24 hours a day from all over the world and in many languages. We cannot answer all emails. Our team of webmasters sort through all of the emails and try to repond to ones that need attention or forward them on to the appropiate departments. We get hundreds of Emails EVERY DAY of people just sending us their name & address. Further we get thousands of Emails of people that signed up for membership and within a week of submitting Online or mailing in their application they ask when their list will arrive. Members sending in Emails MUST include their membership ID #.
NOTE: If you are contacting us about a problem with your membership or a submitted application, you must do so directly with us. Our privicy policy prohibits us from discussing your membership information with ANYONE or ANY reason. This type of communicating must been done in Writing via Mail and all information in your communication must match your application in order for a resonse. Please also be aware that there are fraudgelent agencies going through great lengths to copy our program, ands some even using the same name. Make sure you contact us directely so we can assist you.
---
QUESTION:
Can Groups join?
ANSWER:
YES - We have programs designed for groups & schools with discounted rates.

QUESTION:
Can Groups join and share an Individual Membership?
ANSWER:
NO - We have programs designed for groups & schools with discounted rates. People providing ANY False Information VOID their Membership & Forfeit Fees.

QUESTION:
How do I become an IPF Agent or Affiliate and help promote this program?
ANSWER:
This year is the first time in 5 years IPF is adding Agents worldwide for it's PenFriend® Program. Go to our Agent Information page to find out how to join the over 1250 Agents promote our program and make money. Plus we just added a new Online Affiliate program.

QUESTION:
I have been charged twice on my credit card for membership. How do I get a Refund for the second Charge?
ANSWER:
If you submit more than one membership application you will be charged for each one submitted. We cannot provide a refund on ANY application processed.


---
Top of Page